Hi,
I've read the Genomics IG and looked at a number of examples provided by FHIR website.
According to the IG you can represent Panels as Observation [Grouper profile] with Panel memebers as part of hasMember in Grouper profile.
But if you look at FHIR Genomic Reporting guides you can express Variants using Observation Variant profile which also contains "components" (the components that are listed under the LOINC panel, image below).
I came across this LOINC panel as I was looking for appropriate code to use but I'm not too confident in whether my thinking is correct?
From what I picked up from IG and different examples…
So the build up of LOINC DNA Panel → FHIR structure would be as follows…
DNA Marker Result Panel code as Observation Grouper code (this would be the code of Result Panel)…

Have Observation Variant Profile and use DNA marker identified panel code as its code…

Use Components listed in Variant Profile (like dna change, amino acid change, etc → this are also listed in LOINC DNA Marker Identified Panel)

Have separate observation for each of the direct child of DNA marker results panel (51960-3)
ex. 53034-5 Allelic State, 48002-0 Genomic Source class, and so on
would the above method be correct?
Can I have step number 4 be included in the observation created in step 2 as a component (since allelic state, genomic source class are part of obx component)?
[IMAGE]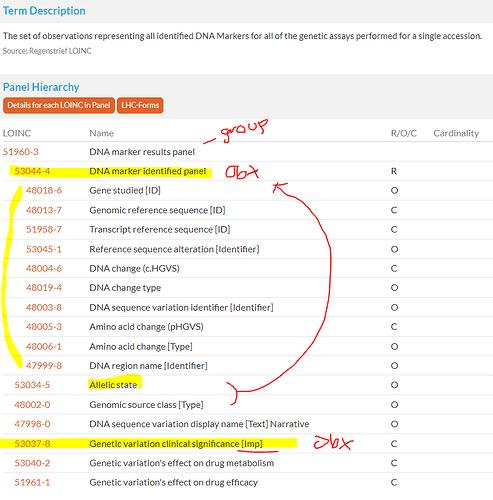 Thanks!