Hello Community,
I've been researching the topic of "Managing Family Units" in FHIR as a part of product research for a while and here are a couple of challenging questions around data modeling of the family unit and relationships in general:
Using Link.other or. contact.extension.related-person?
From the following FHIR link: "The link element is used to assert that patient resources refer to the same patient".
To me that is a clear indication that the Patient.link should NOT be used to manage family relationships.
On the other hand, I do see the following usage of the Patient.link to document mother-newborn relationship (is this an outlier due to the sensitive nature of the new-born phase?)
The other alternative for effectively managing family relationships is via Patient contact.related-person extension.
This seems to be very logical though it does carry a few data challenges:
contact.relationship dataset is limited to Next Of Kin as the closest type. Is anyone I consider family considered NOK? An uncle I am helping to manage care for? Foster child? etc.
As an extension, is it harder to make use of _include and _revinclude in searches for easily looking up family relationships?
any other thoughts on a preferred approach?
Managing family relationships
Let's take a simple case of a Mother and two children (Son and Daughter).
The explicit relationships known to us are from the mother's input in a registration system:
Mother-to-Son (Child)
Mother-to-Daughter (Child)
Both documented in the following manner:
Create the 2 Patient resources that represent the mother and the child, then create a RelatedPerson resource that directly references the child (the 'to' of the relationship) through the RelatedPerson.patient element, and then use the mothers Patient.link to refer to that RelatedPerson (the 'from').
But since we know both children have a common parent we COULD also create the following 4 explicit-implicit relationships:
Brother-to-sister (sibling)
Sister-to-Brother (Sibling)
Son-to-Mother (Parent)
Daughter-to-Mother (Parent)
This would ensure that all relationships are documented for all persons bi-directionally (without making any unreasonable inferences.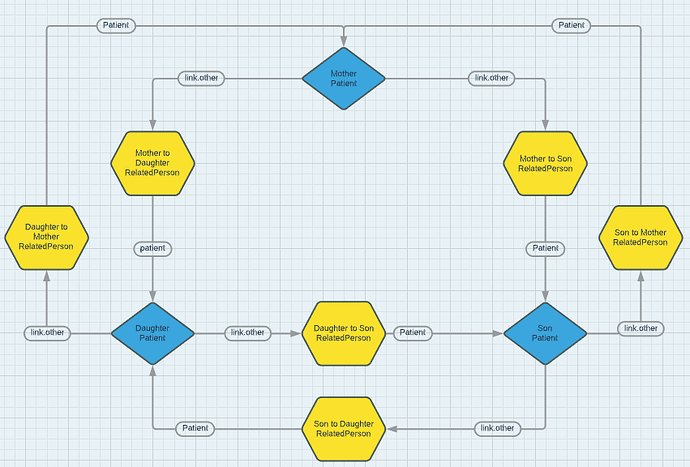 Questions:
What are the benefits drawbacks of creating and managing so many relationships that grow exponentially with every addition of a family member? What would the diagram above look like when adding another parent/child?
What limits (legal/practical) exist on inferred relationship types that have not been formally defined (brother-sister example above)?
Other thoughts and comments?
Thank you for your time and thinking into this topic,
Yuval Romm